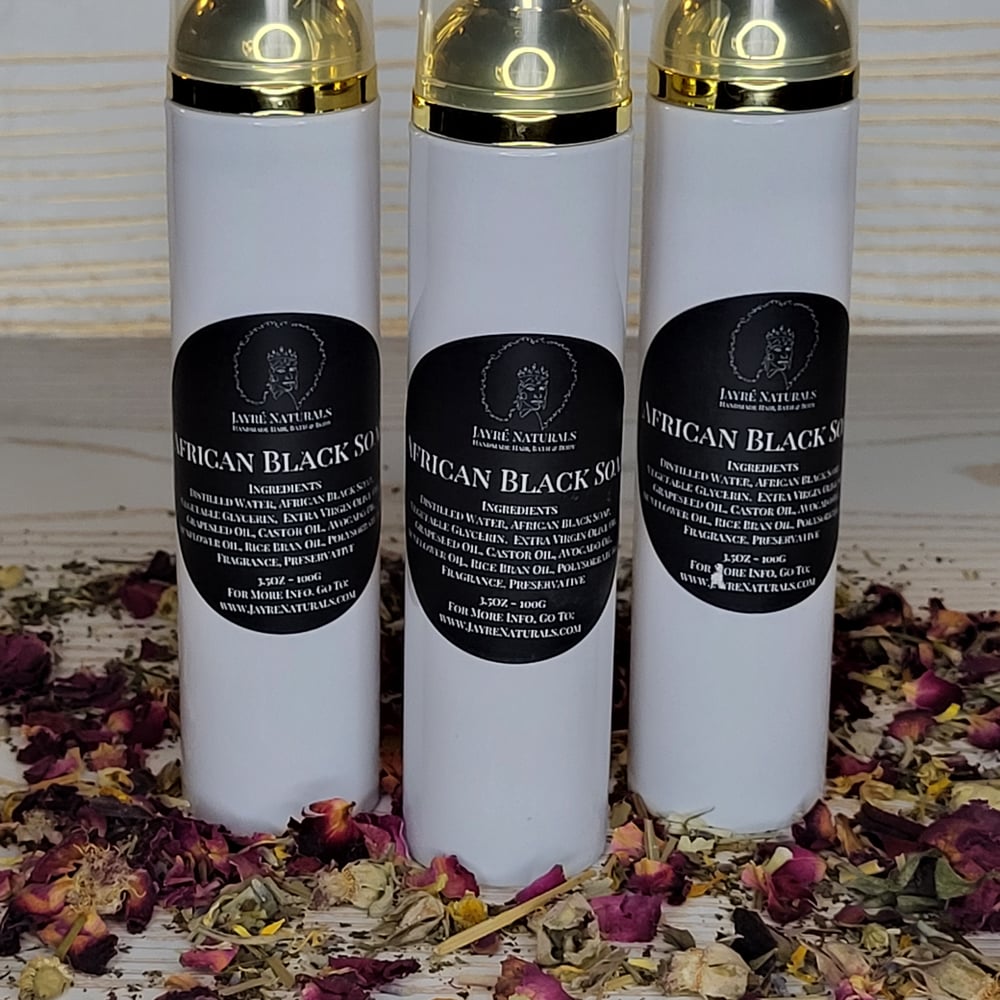 African black soap has been used for decades for its all-natural and all-purpose hair and skin-loving properties. It has a wide variety of benefits, such as anti-bacterial and anti-fungal properties, helps with acne, and helps to reduce fine lines and wrinkles. It also helps with eczema, reduces razor bumps, and the appearance of dark spots and blemishes; not to mention the fact that it's packed with numerous amounts of vitamins and minerals that are wonderful for the hair, face, and skin. This is Jayré Naturals' new and improved version of the classic liquid African black soap recipe; with our signature oil blend and vegetable glycerin to create a more moisturizing and nourishing product.
FRAGRANCE DESCRIPTIONS
Baby Powder: a blend of ozone, orange, rose, orange blossom, violet, powder cedarwood, and patchouli. Infused with French green clay.
Bite Me: a blend of black cherry, orange, strawberry, pineapple, lime, eucalyptus, violet, lily, clove, and vanilla bean. Infused with rose kaolin clay.
Green Tea & Lemongrass: a blend of green tea, lemongrass, orange, green floral, jasmine, orange blossom, cedarwood, powder, and citronella. Infused with green tea, lemon peel, and lemongrass.
Harvest Moon: a blend of fresh pear, blueberries, pineapple, juniper berries, eucalyptus, spruce, woods, Douglas fir, cedar, and white musk. Infused with annatto seed, and turmeric.
Lunar Eclipse: a blend of peach nectar, lemon, orange, bergamot, raspberry, pineapple, carnation, tuberose, orchids, hydrangea, calla lily, sweet vanilla, honey, oakmoss, and Tonka bean. Infused with activated charcoal.
Oatmeal, Milk & Agave: a blend of Hawthorne, cherry, raspberry, almond, French vanilla, and soy milk. Infused with oatmeal, coconut milk, and agave nectar.
Peppermint: Very crisp, clean, and true peppermint scent. Extremely fresh and invigorating! Infused with peppermint leaf.
Rosemary Sage: a blend of pine, eucalyptus, rosemary, green floral, sage, cedar leaf, fir needle, and orange. Infused with rosemary, and sage.
Sea Salt & Orchid: a blend of sea salt, ozone, jasmine, lily of the valley, green leaves, wood, Tonka bean, and orange. Infused with red Moroccan clay, pink Himalayan sea salt, and dead sea salt.
White Sage & Lavender: a blend of lavender, camphor, chamomile, sage, rosemary, sandalwood, clove, and lavender. Calming, relaxing, and refreshing! Infused with white kaolin clay, lavender, and sage.
DISCLAIMER
Although handmade products with natural ingredients are great, they aren't for everyone. If you have any negative reaction to this product, whether it be mild or severe, please discontinue use immediately. If you are unsure about allergies, please see a physician before use.
WARNING
For external use only. Avoid contact with eyes and other sensitive areas.
DIRECTIONS
Shake well before use. Pump 3-5 pumps and create a nice lather with your hands. Massage for 3-5 minutes and then rinse. Repeat if needed.
This product also works as a beard wash!
INGREDIENTS
Distilled Water, African Black Soap, Vegetable Glycerin, Extra Virgin Olive Oil, Grapeseed Oil, Castor Oil, Avocado Oil, Sunflower Oil, Rice Bran Oil, Polysorbate 80, Fragrance, Preservative