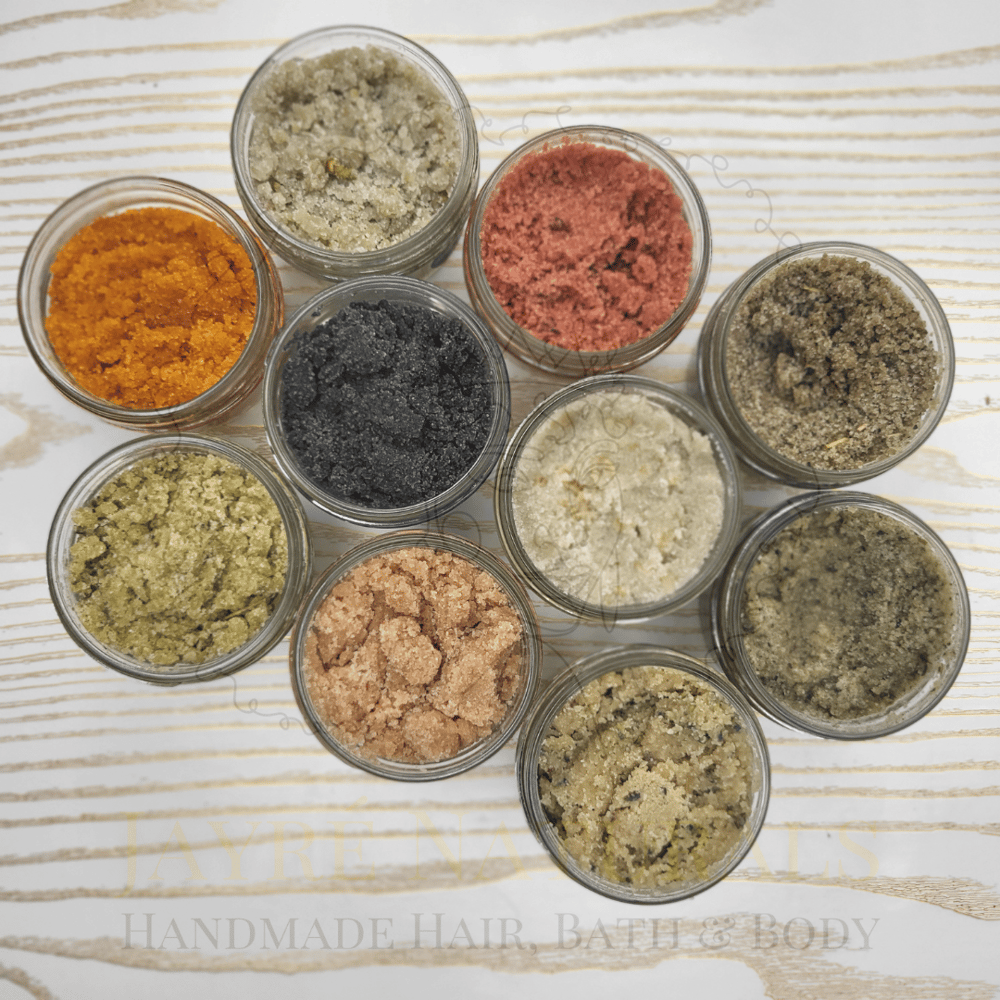 Dive into some sweet exfoliation with the Body Exfoliator!
What makes this scrub different than most scrubs on the market is emulsification. With my butter blend, signature oil blend, and a vegetable-based, conditioning emulsifying wax, this scrub not only hydrates and moisturizes but can turn into a lotion while you use it in the shower or bath. It also doesn't leave a super greasy feel on the skin. It applies just the right amount of moisture to the skin without overdoing it, leaving you with polished, soft, smooth, and supple skin!
Gentle enough to be used on the face as well!
EXTREMELY TRAVEL-FRIENDLY! No worries about leakage and spilling; the vegetable-based wax makes the scrub solid enough to withstand higher temperatures and bumpy rides, but it's still soft enough to be scoopable and applies easily to the skin.
(TIP: Use this on the rough parts of the body, like the elbows, knees, hands, and feet; it's great to use before shaving to remove dead skin cells. For extra softness and moisture, use the Hair & Body Butter immediately after to lock it in!)
Recycle-friendly packaging; no plastics! PLEASE RECYCLE!!
FRAGRANCE DESCRIPTIONS
Baby Powder: a blend of ozone, orange, rose, orange blossom, violet, powder cedarwood, and patchouli. Infused with French green clay.
Bite Me: a blend of black cherry, orange, strawberry, pineapple, lime, eucalyptus, violet, lily, clove, and vanilla bean. Infused with rose kaolin clay.
Green Tea & Lemongrass: a blend of green tea, lemongrass, orange, green floral, jasmine, orange blossom, cedarwood, powder, and citronella. Infused with green tea, lemon peel, and lemongrass.
Harvest Moon: a blend of fresh pear, blueberries, pineapple, juniper berries, eucalyptus, spruce, woods, Douglas fir, cedar, and white musk. Infused with annatto seed, and turmeric.
Lunar Eclipse: a blend of peach nectar, lemon, orange, bergamot, raspberry, pineapple, carnation, tuberose, orchids, hydrangea, calla lily, sweet vanilla, honey, oakmoss, and Tonka bean. Infused with activated charcoal.
Oatmeal, Milk & Agave: a blend of Hawthorne, cherry, raspberry, almond, French vanilla, and soy milk. Infused with oatmeal, coconut milk, and agave nectar.
Peppermint: Very crisp, clean, and true peppermint scent. Extremely fresh and invigorating! Infused with peppermint leaf.
Rosemary Sage: a blend of pine, eucalyptus, rosemary, green floral, sage, cedar leaf, fir needle, and orange. Infused with rosemary, and sage.
Sea Salt & Orchid: a blend of sea salt, ozone, jasmine, lily of the valley, green leaves, wood, Tonka bean, and orange. Infused with red Moroccan clay, pink Himalayan sea salt, and dead sea salt.
White Sage & Lavender: a blend of lavender, camphor, chamomile, sage, rosemary, sandalwood, clove, and lavandin. Calming, relaxing, and refreshing! Infused with white kaolin clay, lavender, and sage.
DISCLAIMER
Although handmade products with natural ingredients are great, they aren't for everyone. If you have any type of negative reaction to this product, whether it be mild or severe, please discontinue use immediately. If you are unsure about any allergies, please see a physician before use.
 
WARNING
For external use only. Avoid contact with eyes and other sensitive areas. This product contains a preservative, but please DO NOT get water into this product!
 
DIRECTIONS
Scoop out the desired amount into your hands and apply to the desired area; it's especially good in dry and rough areas. A little goes a long way so using a small amount first then more as needed is recommended.
 
INGREDIENTS
Sugar, Extra Virgin Olive Oil, Grapeseed Oil, Castor Oil, Avocado Oil, Sunflower Oil, Rice Bran Oil, Shea Butter, Emulsifying Wax, Stearic Acid, Colorant, Fragrance, Preservative, Dried Botanicals
Body Exfoliator | Sugar Scrub | Body Scrub | Facial Scrub | Exfoliating Body Polish | Exfoliating Scrub | Emulsified Sugar Scrub | Exfoliant