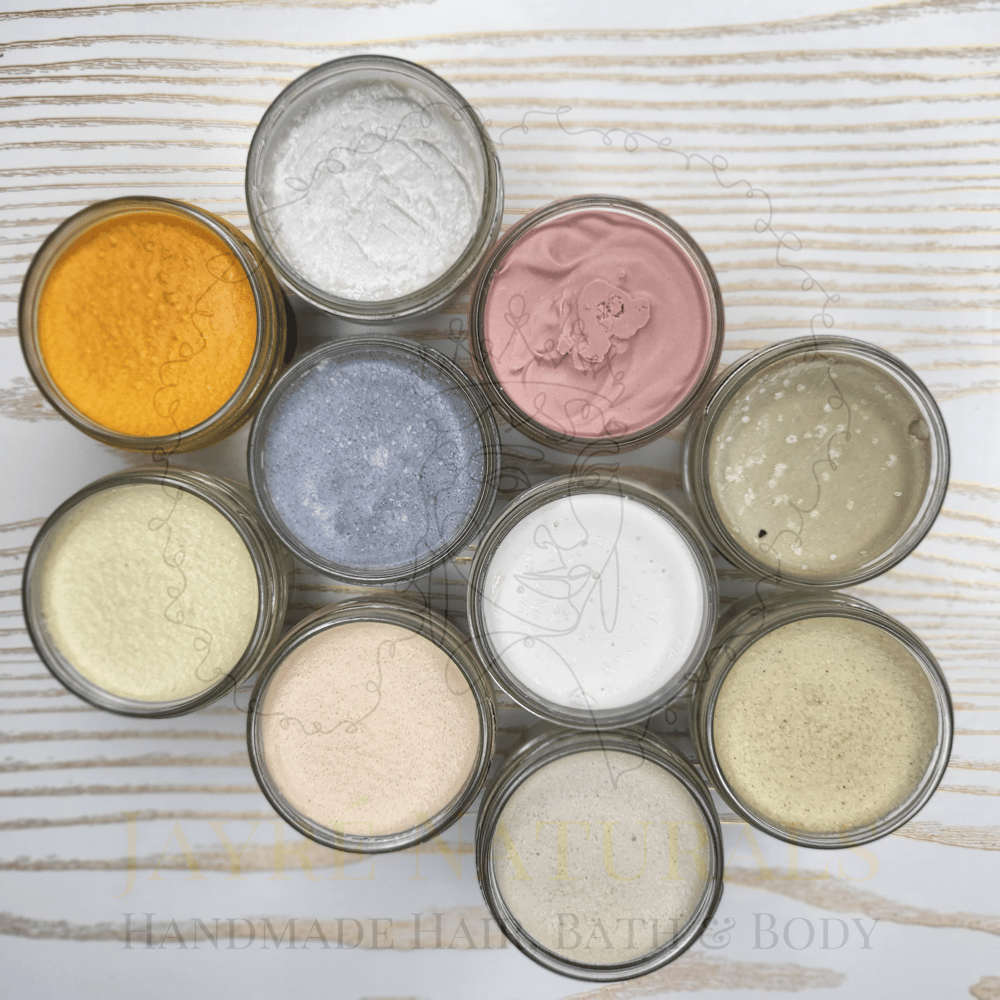 Fluffy, creamy, and extremely moisturizing...everything you love about hair and body butter! This butter is highly concentrated with my triple butter blend and signature oil blend; carefully handcrafted to soothe, smooth, and soften even the driest, roughest skin. A little DEFINITELY goes a long way! Made with all-natural, organic ingredients; vegan, cruelty-free, and travel-friendly! This butter can be used to provide moisture to the hair, scalp, face, and body; it's especially great for the elbows, hands, and feet. It can also be used to condition and soften beards!
(TIP: Apply immediately after showering or bathing to keep water in the skin and further moisturize.)
Recycle-friendly packaging; no plastics! PLEASE RECYCLE!!
FRAGRANCE DESCRIPTIONS
Baby Powder: a blend of ozone, orange, rose, orange blossom, violet, powder cedarwood, and patchouli. Infused with French green clay.
Bite Me: a blend of black cherry, orange, strawberry, pineapple, lime, eucalyptus, violet, lily, clove, and vanilla bean. Infused with rose kaolin clay.
Green Tea & Lemongrass: a blend of green tea, lemongrass, orange, green floral, jasmine, orange blossom, cedarwood, powder, and citronella. Infused with green tea, lemon peel, and lemongrass.
Harvest Moon: a blend of fresh pear, blueberries, pineapple, juniper berries, eucalyptus, spruce, woods, Douglas fir, cedar, and white musk. Infused with annatto seed, and turmeric.
Lunar Eclipse: a blend of peach nectar, lemon, orange, bergamot, raspberry, pineapple, carnation, tuberose, orchids, hydrangea, calla lily, sweet vanilla, honey, oakmoss, and Tonka bean. Infused with activated charcoal.
Oatmeal, Milk & Agave: a blend of Hawthorne, cherry, raspberry, almond, French vanilla, and soy milk. Infused with oatmeal, coconut milk, and agave nectar.
Peppermint: Very crisp, clean, and true peppermint scent. Extremely fresh and invigorating! Infused with peppermint leaf.
Rosemary Sage: a blend of pine, eucalyptus, rosemary, green floral, sage, cedar leaf, fir needle, and orange. Infused with rosemary, and sage.
Sea Salt & Orchid: a blend of sea salt, ozone, jasmine, lily of the valley, green leaves, wood, Tonka bean, and orange. Infused with red Moroccan clay, pink Himalayan sea salt, and dead sea salt.
White Sage & Lavender: a blend of lavender, camphor, chamomile, sage, rosemary, sandalwood, clove, and lavandin. Calming, relaxing, and refreshing! Infused with white kaolin clay, lavender, and sage.
 
DISCLAIMER
Although handmade products with natural ingredients are great, they aren't for everyone. If you have any type of negative reaction to this product, whether it be mild or severe, please discontinue use immediately. If you are unsure about any allergies, please see a physician before use.
 
WARNING
For external use only. Avoid contact with eyes and other sensitive areas. This product contains a preservative, but please DO NOT get water into this product!
 
DIRECTIONS
For hair, scalp, body, or facial use: Using the stick provided, scoop out the desired amount into your hands and apply to the desired area, especially in dry and rough areas. A little goes a long way so using a small amount first then as needed is recommended. This product can also be used as beard butter as well.
 
INGREDIENTS
Distilled Water, Shea Butter, Cocoa Butter, Mango Butter, Emulsifying Wax, Stearic Acid, Natural Colorant, Fragrance, Preservative
Hair & Body Butter | Hair Butter | Whipped Shea Butter | Whipped Body Butter | Hair Moisturizer | Body Moisturizer | Moisturizing Body Cream