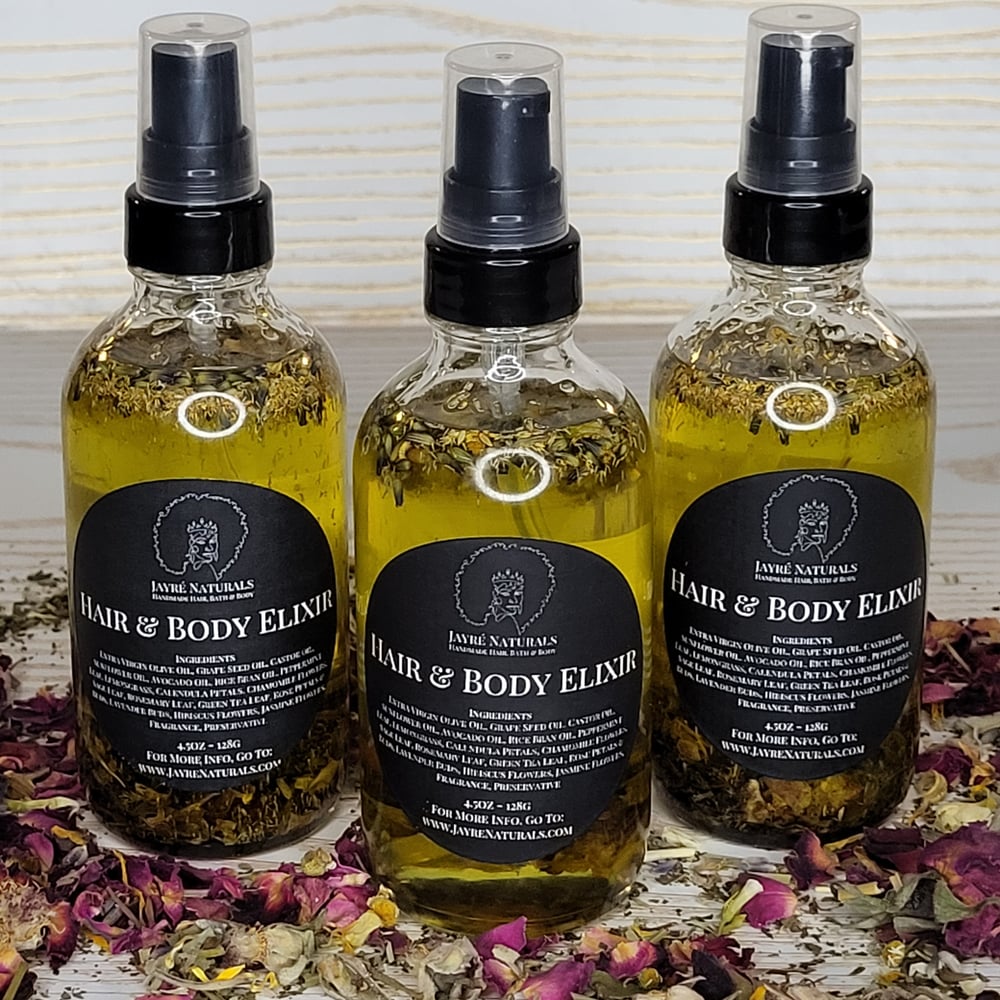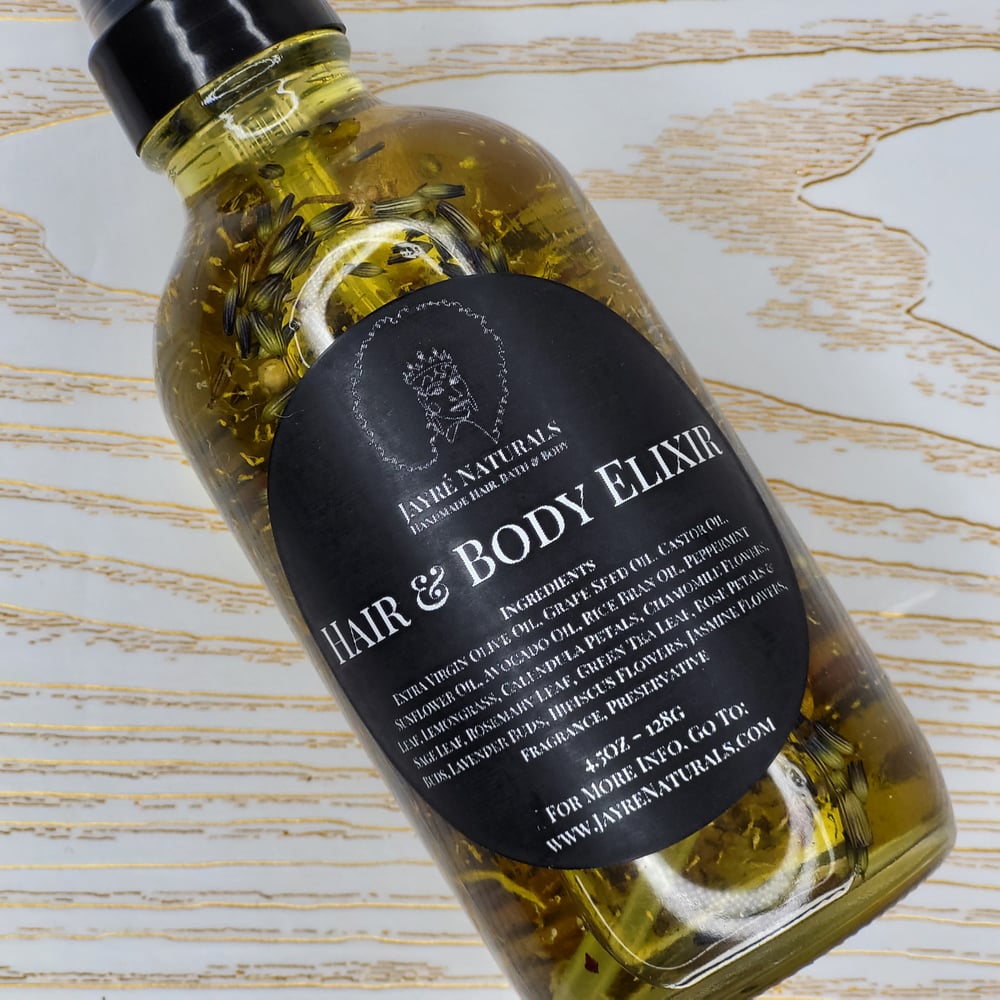 The magical, multi-purpose, and moisturizing potion of potions! This elixir features my hair and skin-loving signature oil blend and fresh botanicals, such as rosebuds, hibiscus flowers, lavender buds, and peppermint leaves. The Hair & Body Elixir can be used as a light moisturizer for hair and body, a hot oil treatment for the hair and scalp, a bath oil, and massage oil. It can also be used as a conditioning beard oil and cuticle oil for the nails! Prepare yourself for a delightful head-to-toe nourishing oil infusion experience!
 
(TIP: Make sure you clean the opening of the bottle and secure the dropper top tightly after use to prevent spills; store in a cool dry place.)
Recycle-friendly packaging; no plastics! PLEASE RECYCLE!!
FRAGRANCE DESCRIPTIONS
Baby Powder: a blend of ozone, orange, rose, orange blossom, violet, powder cedarwood, and patchouli. 
Bite Me: a blend of black cherry, orange, strawberry, pineapple, lime, eucalyptus, violet, lily, clove, and vanilla bean. 
Green Tea & Lemongrass: a blend of green tea, lemongrass, orange, green floral, jasmine, orange blossom, cedarwood, powder, and citronella. 
Harvest Moon: a blend of fresh pear, blueberries, pineapple, juniper berries, eucalyptus, spruce, woods, Douglas fir, cedar, and white musk. 
Lunar Eclipse: a blend of peach nectar, lemon, orange, bergamot, raspberry, pineapple, carnation, tuberose, orchids, hydrangea, calla lily, sweet vanilla, honey, oakmoss, and Tonka bean. 
Oatmeal, Milk & Agave: a blend of Hawthorne, cherry, raspberry, almond, French vanilla, and soy milk. 
Peppermint: Very crisp, clean, and true peppermint scent. Extremely fresh and invigorating! 
Rosemary Sage: a blend of pine, eucalyptus, rosemary, green floral, sage, cedar leaf, fir needle, and orange. 
Sea Salt & Orchid: a blend of sea salt, ozone, jasmine, lily of the valley, green leaves, wood, Tonka bean, and orange. 
White Sage & Lavender: a blend of lavender, camphor, chamomile, sage, rosemary, sandalwood, clove, and lavandin. Calming, relaxing, and refreshing!
DISCLAIMER
Although handmade products with natural ingredients are great, they aren't for everyone. If you have any type of negative reaction to this product, whether it be mild or severe, please discontinue use immediately. If you are unsure about any allergies, please see a physician before use.
WARNING
For external use only. Avoid contact with eyes and other sensitive areas.
DIRECTIONS
For hair and scalp: Apply directly to scalp/hair and gently massage for 5-10 minutes. Use daily on hair as a light moisturizer. For face and body: Add a few drops to hands and gently rub into skin until absorbed. This oil can also be used as hot oil treatment, bath oil, cuticle oil, beard oil, and massage oil.
INGREDIENTS
Extra Virgin Olive Oil, Grape Seed Oil, Castor Oil, Sunflower Oil, Avocado Oil, Rice Bran Oil, Peppermint Leaf, Lemongrass, Calendula Petals, Chamomile Flowers, Sage Leaf, Rosemary Leaf, Green Tea Leaf, Rose Petals & Buds, Lavender Buds, Hibiscus Flowers, Jasmine Flowers, Fragrance, Preservative
Hair & Body Elixir | Beard Oil | Hair Oil | Scalp Oil | Face Moisturizer | Body Oil | Massage Oil | Bath Oil | Cuticle Oil | Infused Oil