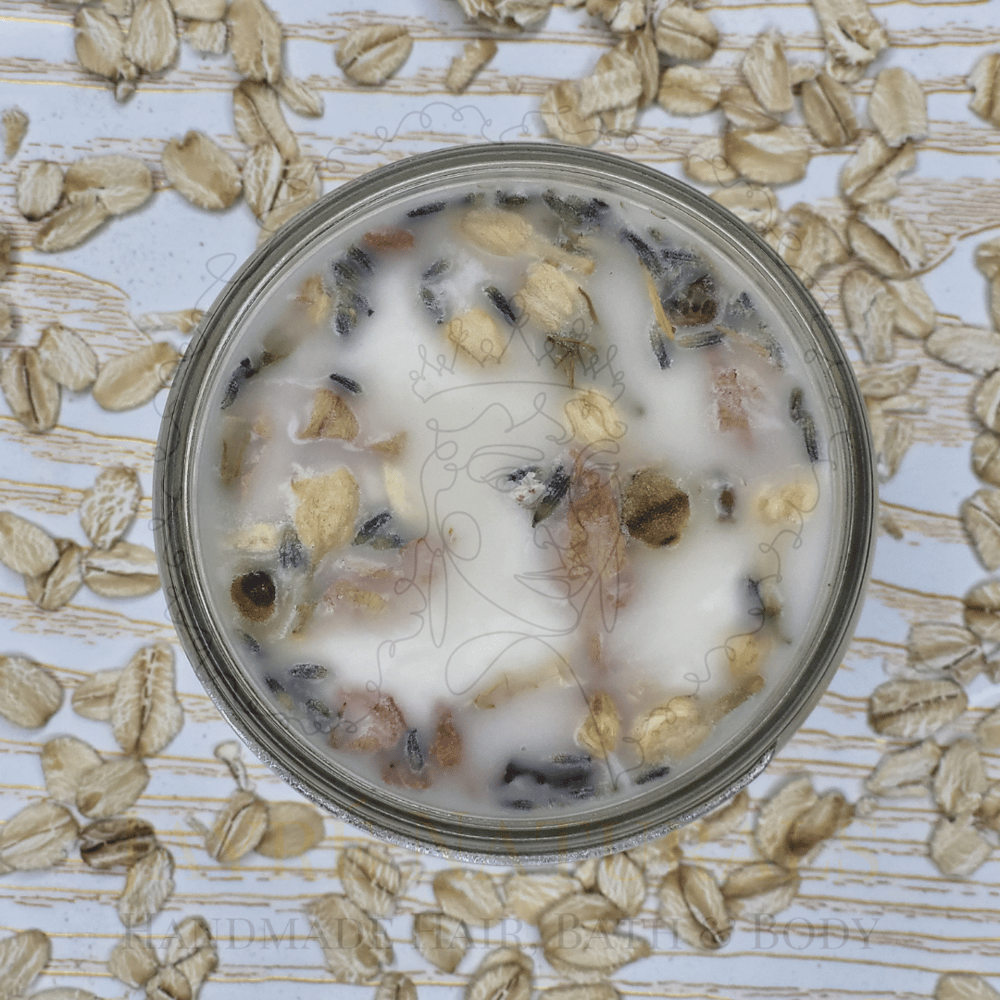 Name a better way to indulge and unwind than with a candle? Don't worry, we'll wait...😊
Our soy candles are handcrafted and hand-poured using 100% soy wax! Dye-free and made with high-quality fragrances. These 100% soy candles give off a slow and clean burn, allowing you to fully relax and enjoy your candle longer without the soot and pollution. 
 
FRAGRANCE DESCRIPTIONS
Baby Powder: a blend of ozone, orange, rose, orange blossom, violet, powder cedarwood, and patchouli. 
Bite Me: a blend of black cherry, orange, strawberry, pineapple, lime, eucalyptus, violet, lily, clove, and vanilla bean. 
Green Tea & Lemongrass: a blend of green tea, lemongrass, orange, green floral, jasmine, orange blossom, cedarwood, powder, and citronella. 
Harvest Moon: a blend of fresh pear, blueberries, pineapple, juniper berries, eucalyptus, spruce, woods, Douglas fir, cedar, and white musk. 
Lunar Eclipse: a blend of peach nectar, lemon, orange, bergamot, raspberry, pineapple, carnation, tuberose, orchids, hydrangea, calla lily, sweet vanilla, honey, oakmoss, and Tonka bean. 
Oatmeal, Milk & Agave: a blend of Hawthorne, cherry, raspberry, almond, French vanilla, and soy milk. 
Peppermint: Very crisp, clean, and true peppermint scent. Extremely fresh and invigorating! 
Rosemary Sage: a blend of pine, eucalyptus, rosemary, green floral, sage, cedar leaf, fir needle, and orange. 
Sea Salt & Orchid: a blend of sea salt, ozone, jasmine, lily of the valley, green leaves, wood, Tonka bean, and orange. 
White Sage & Lavender: a blend of lavender, camphor, chamomile, sage, rosemary, sandalwood, clove, and lavandin. Calming, relaxing, and refreshing!
DISCLAIMER
Although handmade products with natural ingredients are great, they aren't for everyone. If you have any type of negative reaction to this product, whether it be mild or severe, please discontinue use immediately. If you are unsure about any allergies or reactions, please see a physician before use. These products are in no way meant to treat or cure ANY skin conditions or diseases. The ingredients used to make these products may have their own individual characteristics and properties, but the product as a whole is solely meant to do what is indicated on the label or in the directions.
WARNING
Burn within sight. Keep away from flammable objects. Keep away from children and pets.
 
DIRECTIONS
Simply remove the tin lid and light it! Wick already comes trimmed for ease of use. Keep the candle free of any foreign materials including matches and wick trimmings. Only burn candles on a level, fire-resistant surface. Do not burn the candle for more than 4 hours at a time. Stop use when only a ¼ inch of wax remains.
 
INGREDIENTS
Soy Wax, Peppermint Leaf, Lemongrass, Calendula Petals, Chamomile Flowers, Sage Leaf, Rosemary Leaf, Green Tea Leaf, Rose Petals & Buds, Lavender Buds, Hibiscus Flowers, Jasmine Flowers, Fragrance
Herbal Soy Candle | Scented Soy Candle | Aromatherapy Candle | 100% Soy Wax Candle | Botanical Soy Candle | Wedding Favors & Gifts