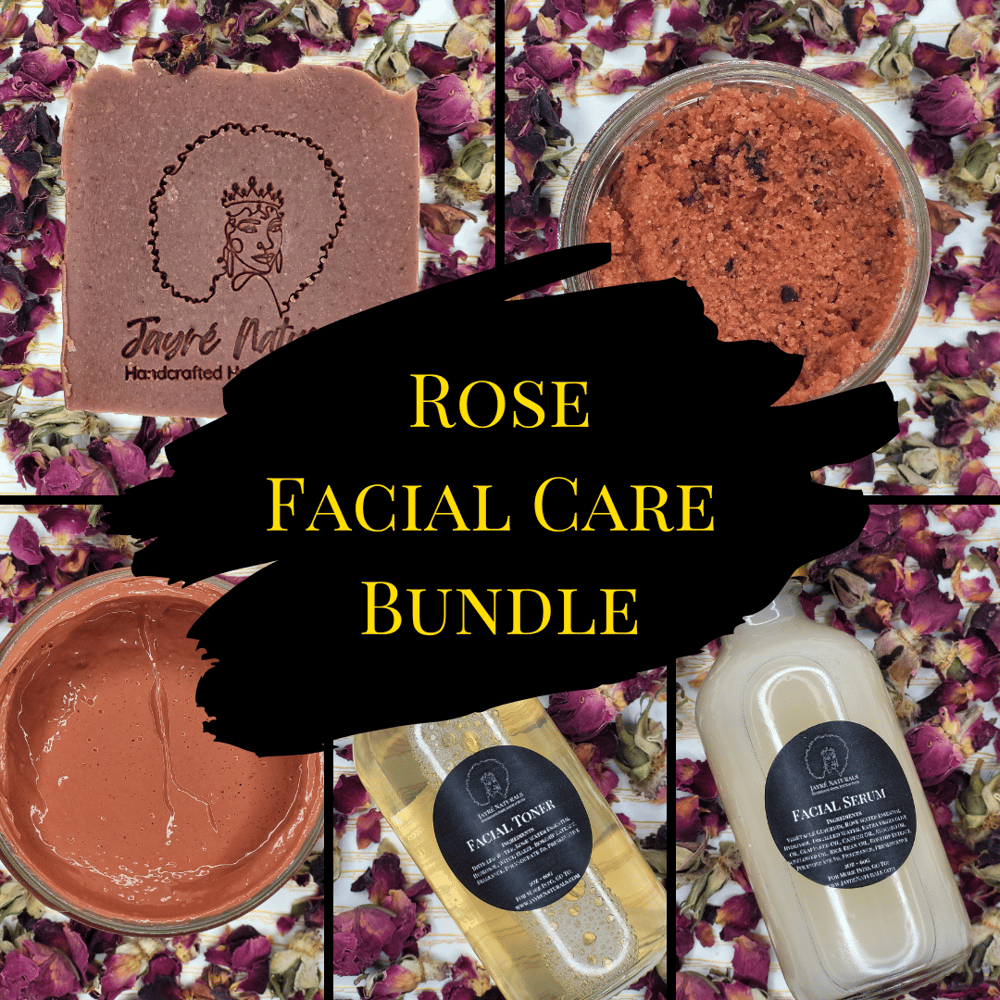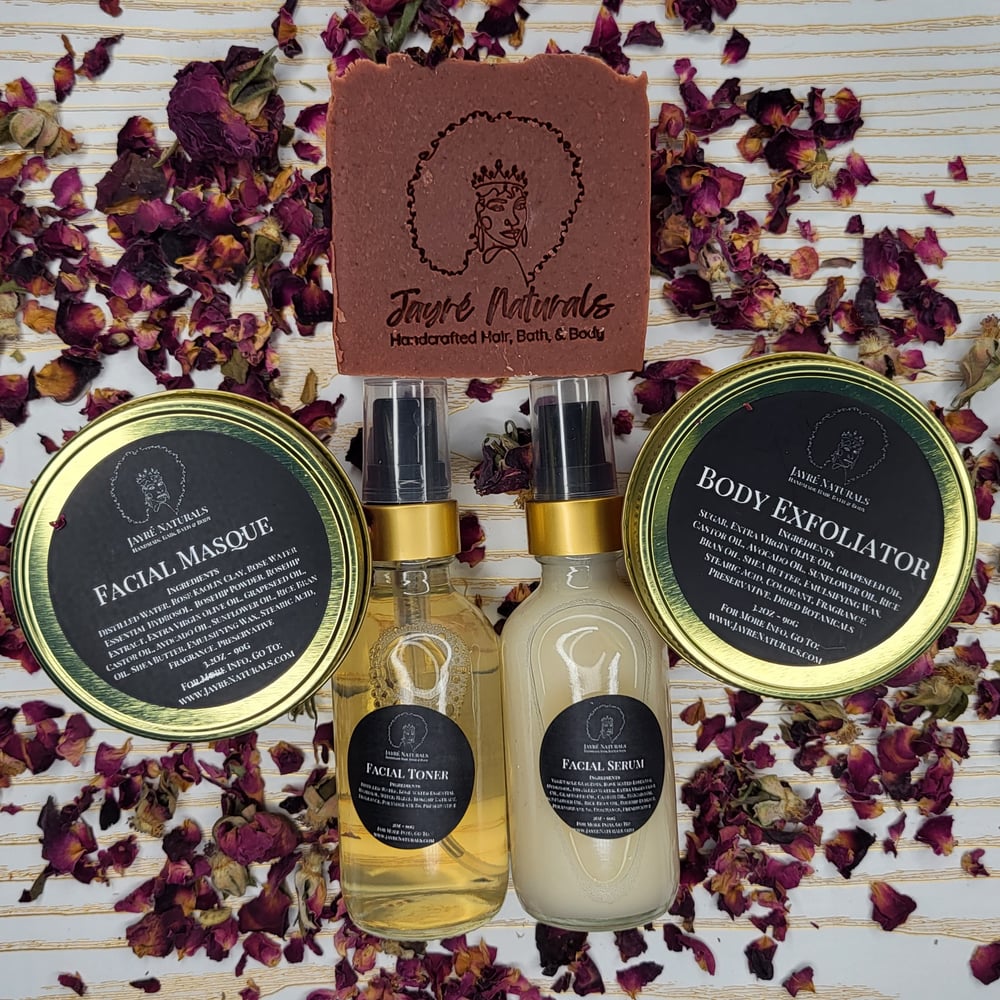 Infused with rose water, rose kaolin clay, rosehip powder, and rosehip extract. These ingredients help draw out toxins and impurities, improve the skin, reduce redness and puffiness and the antibacterial and anti-inflammatory properties help reduce acne.
The Rose Facial Care bundle includes 1x Facial bar, 1x Facial Masque, 1x Facial Exfoliator, 1x Facial Toner, and 1x Facial Serum, all scented in a beautiful, and refreshing rose fragrance. This bundle also includes a step-by-step instruction card, with detailed instructions for beautiful, glowing skin.
Recycle-friendly packaging; no plastics! PLEASE RECYCLE!!
FRAGRANCE DESCRIPTION
Rose: a blend of rose, green leaves, ozone, carnation, lily of the valley, ylang-ylang, powder, and peppercorn.
DISCLAIMER
Although handmade products with natural ingredients are great, they aren't for everyone. If you have any type of negative reaction to this product, whether it be mild or severe, please discontinue use immediately. If you are unsure about any allergies, please see a physician before use.
WARNING
For external use only. Avoid contact with eyes and other sensitive areas. This product contains a preservative, but please DO NOT get water into this product!
DIRECTIONS
CLEANSE: First, use the Rose Facial Bar to gently remove dirt and oil from the face. Massage for 3-5 minutes and then rinse thoroughly. You can use your hands or your favorite face cleaning tool.
EXFOLIATE: Second, use the Rose Facial Exfoliator to further break up dead skin. Massage for 1-3 minutes and then rinse thoroughly. Exfoliating the skin also opens the pores for extra deep cleansing.
DETOX: Next, apply the Rose Facial Masque to detoxify the skin and remove impurities from the pores. Massage into skin and let sit for 15-20 minutes. Once dry, rinse thoroughly.
HYDRATE: Then, spray the Rose Facial Toner, onto the face 2-3 times and let air dry. Toning helps balance and rehydrate the skin. Shake well before use.
MOISTURIZE: Finally, apply 1-2 pumps of the Rose Facial Serum to the fingertips and gently massage into the skin. Shake well before use. And now you're done! Enjoy your beautiful, replenished skin!
INGREDIENTS
Facial Bar: Distilled Water, Sodium Hydroxide, Shea Butter, Cocoa Butter, Mango Butter, Extra Virgin Olive Oil, Castor Oil, Rose Kaolin Clay, Rosehip Powder, Rose Water Essential Hydrosol, Rosehip Extract, Sodium Lactate, Stearic Acid, Fragrance
Facial Exfoliator: Sugar, Extra Virgin Olive Oil, Grapeseed Oil, Castor Oil, Avocado Oil, Sunflower Oil, Rice Bran Oil, Shea Butter, Emulsifying Wax, Stearic Acid, Rose Kaolin Clay, Rosehip Powder, Fragrance, Preservative
Facial Masque: Distilled Water, Rose Kaolin Clay, Rose Water Essential Hydrosol, Rosehip Powder, Rosehip Extract, Extra Virgin Olive Oil, Grapeseed Oil, Castor Oil, Avocado Oil, Sunflower Oil, Rice Bran Oil, Shea Butter, Emulsifying Wax, Stearic Acid, Fragrance, Preservative
Facial Toner: Distilled Water, Rose Water Essential Hydrosol, Witch Hazel, Rosehip Extract, Fragrance, Polysorbate 80, Preservative
Facial Serum: Vegetable Glycerin, Rose Water Essential Hydrosol, Distilled Water, Extra Virgin Olive Oil, Grapeseed Oil, Castor Oil, Avocado Oil, Sunflower Oil, Rice Bran Oil, Rosehip Extract, Polysorbate 80, Fragrance, Preservative
Rose Facial Care Bundle | Skincare Bundle | Skincare Gift Set | Facial Care | Facial Cleanser | Facial Serum | Facial Mask | Facial Toner